Description
MPN: GE346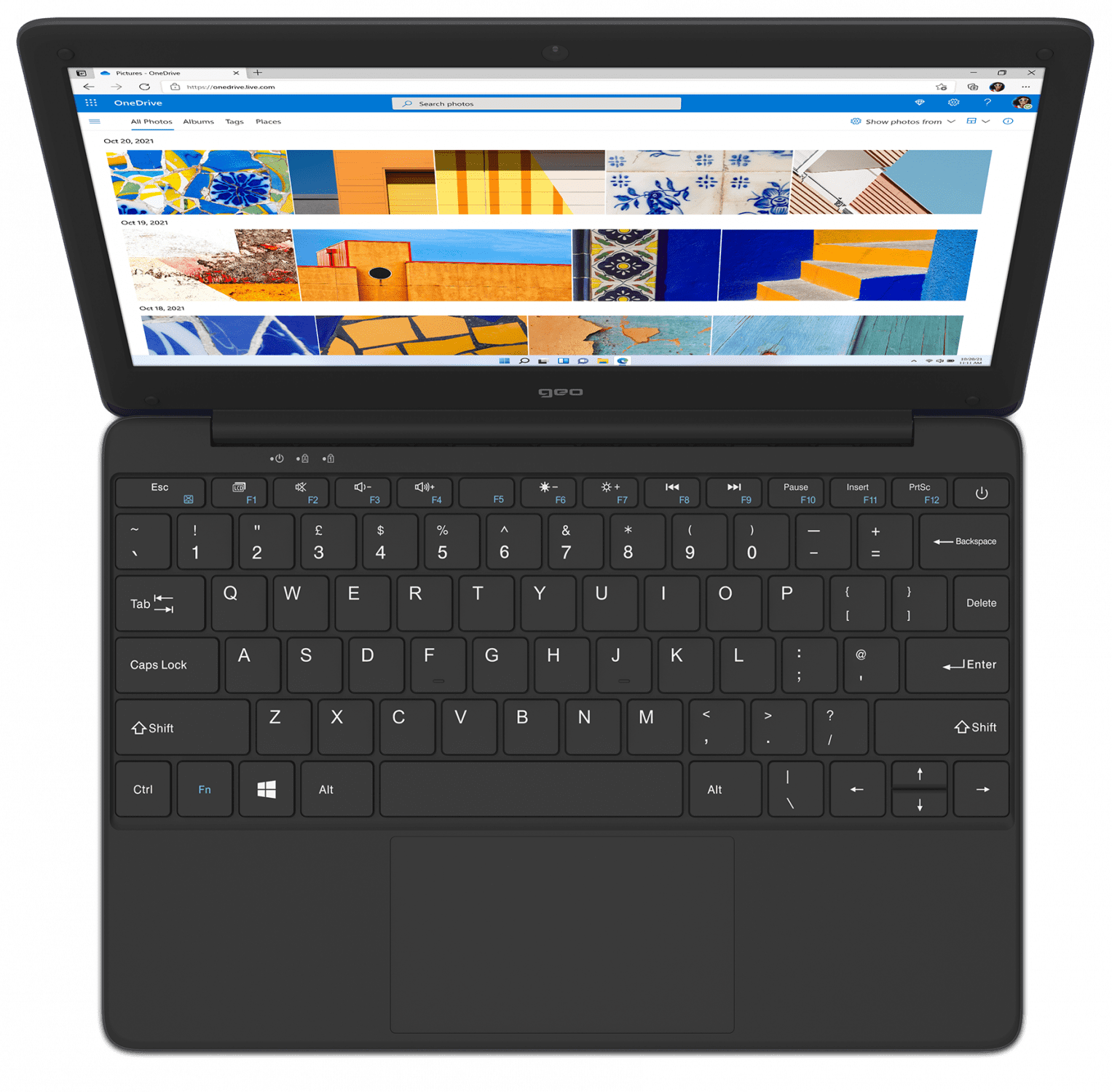 GeoBook 110 is an 11.6-inch ultra-compact Windows 11 laptop built for productivity and portability in equal measure. Powered by an Intel Celeron Dual Core processor with 4GB RAM to help you multi-task effectively, GeoBook 110 is perfect for work, study and casual computing on the move.
A 1-year subscription to Microsoft 365 Personal is included with GeoBook 110, offering access to industry leading premium Office apps such as Excel, Word, Powerpoint and more.
Make your move
GeoBook 110 is a marvel of mobility, designed for you to do more on the move. A compact and lightweight 11.6-inch design assures comfortable portability and a small desktop footprint, great for making the most of your space even in tight areas whether travelling or at home.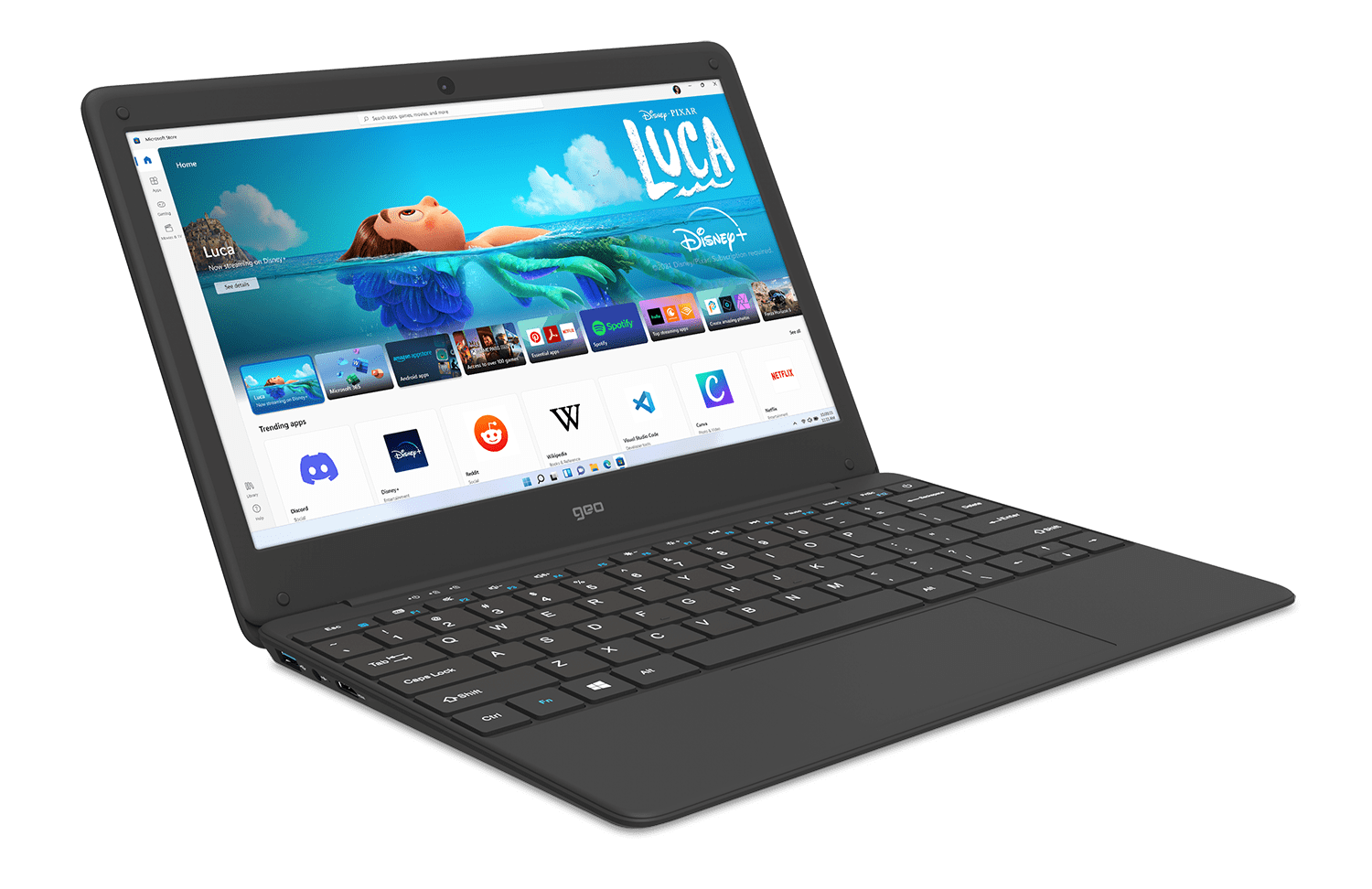 802.11ac Wi-Fi
AC Wi-Fi is less prone to interference than older wireless technologies, so with GeoBook 110 you'll have access to the most reliable wireless connections available. Bluetooth is also built-in for cable-free connection of headphones and more.

Windows 11 & Microsoft 365 Personal
With the widest range of software and peripheral device compatibility available, Windows 11 is the only choice for productivity. GeoBook 110 comes with Windows 11 Home (S mode) ready to go.
A one-year subscription to Microsoft 365 Personal provides you with all the tools you need to get started immediately with premium Office apps including Word, Excel, PowerPoint, and Outlook plus 1 TB of OneDrive cloud storage to auto-save, keep in sync, and back up files and photos.

Crucial connectivity
GeoBook 110 isn't shy about making connections, with 2 USB 3.0 ports for connecting external peripherals such as keyboards, mice or external storage, a Mini-HDMI port for external displays and a 3.5mm audio jack for headphones.
Internal Storage
64GB internal storage is included with GeoBook 110. A MicroSD card slot is also available, supporting cards up to 1TB in size.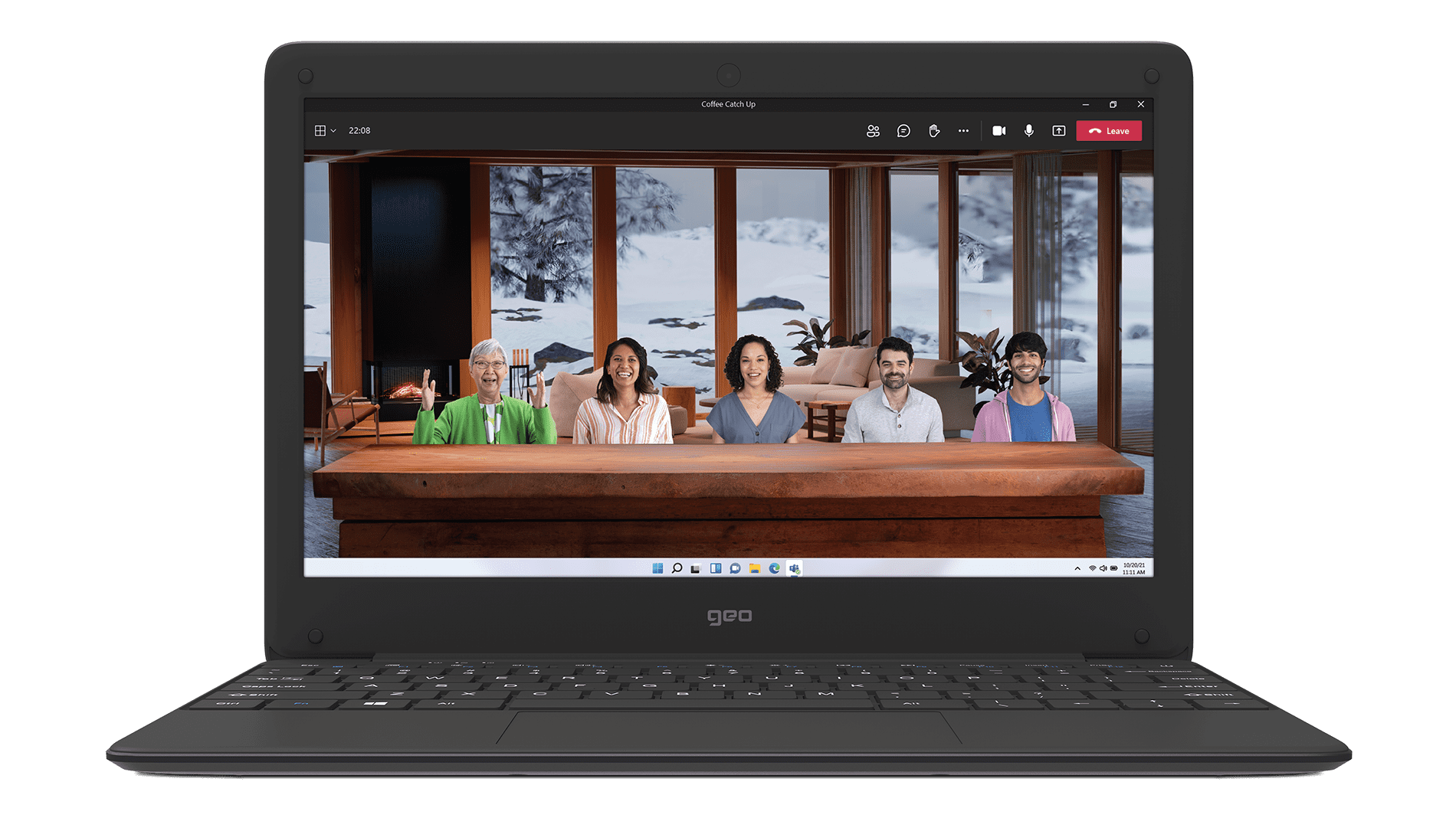 Technical Specification
| Item | Description |
| --- | --- |
| Operating System | Windows 11 Home (S mode) |
| Included Software | Microsoft 365 Personal 1-year (activation required within 180 days of Windows activation date) |
| CPU | Intel® Celeron® N4020 Processor (1.1GHz, Dual Core, 4MB Cache) |
| Memory | 4GB LPDDR4 |
| Internal Storage | 64GB eMMC |
| Expandable Storage | MicroSD Card Slot (1TB Max) |
| Interfaces | 2 x USB 3.0, HDMI-Mini, 3.5mm Headphone/Mic Port |
| Connectivity | Wi-Fi 802.11 b/g/n/ac, Bluetooth 4.2 |
| Camera | 0.9MP Front-Facing |
| Display | 11.6in HD TN (1366 x 768) |
| Graphics | Integrated Intel® UHD Graphics 600 |
| Battery | 4500mAh, 7.6v Lithium Polymer |
| Weight | 995g |
Previous Model Technical Specifications
| Item | Description |
| --- | --- |
| Operating System | Windows 10 Home (S mode) |
| Included Software | Microsoft 365 Personal 1-year (activation required within 180 days of Windows activation date) |
| CPU | Intel® Celeron® N4000 Processor (1.1GHz, Dual Core, 4MB Cache) |
| Memory | 4GB LPDDR4 |
| Internal Storage | 64GB eMMC |
| Expandable Storage | MicroSD Card Slot (64GB Max) |
| Interfaces | 2 x USB 3.0, HDMI-Mini, 3.5mm Headphone/Mic Port |
| Connectivity | Wi-Fi 802.11 b/g/n/ac, Bluetooth 4.2 |
| Camera | 0.3MP Front-Facing |
| Display | 11.6in HD TN (1366 x 768) |
| Graphics | Integrated Intel® UHD Graphics 600 |
| Battery | 4600mAh, 7.4v Lithium Polymer |
| Weight | 995g |
| Item | Description |
| --- | --- |
| Operating System | Windows 10 Home (S mode) |
| Included Software | Microsoft 365 Personal 1-year (activation required within 180 days of Windows activation date) |
| CPU | Intel® Celeron® N3350 Processor (1.1GHz, Dual Core, 2MB L2 Cache) |
| Memory | 4GB LPDDR3 |
| Internal Storage | 64GB eMMC |
| Expandable Storage | MicroSD Card Slot (64GB Max) |
| Interfaces | USB 3.0, USB 2.0, HDMI-Mini, 3.5mm Headphone/Mic Port |
| Connectivity | Wi-Fi 802.11 b/g/n, Bluetooth 4.0 |
| Camera | 0.3MP Front-Facing |
| Display | 11.6in FHD IPS (1920 x 1080) |
| Graphics | Intel® HD Graphics 500 |
| Battery | 4600mAh, 7.4v Lithium Polymer |
| Weight | 948g |