Description
11.6″ Touchscreen 2-in-1 Laptop
MPN: GE325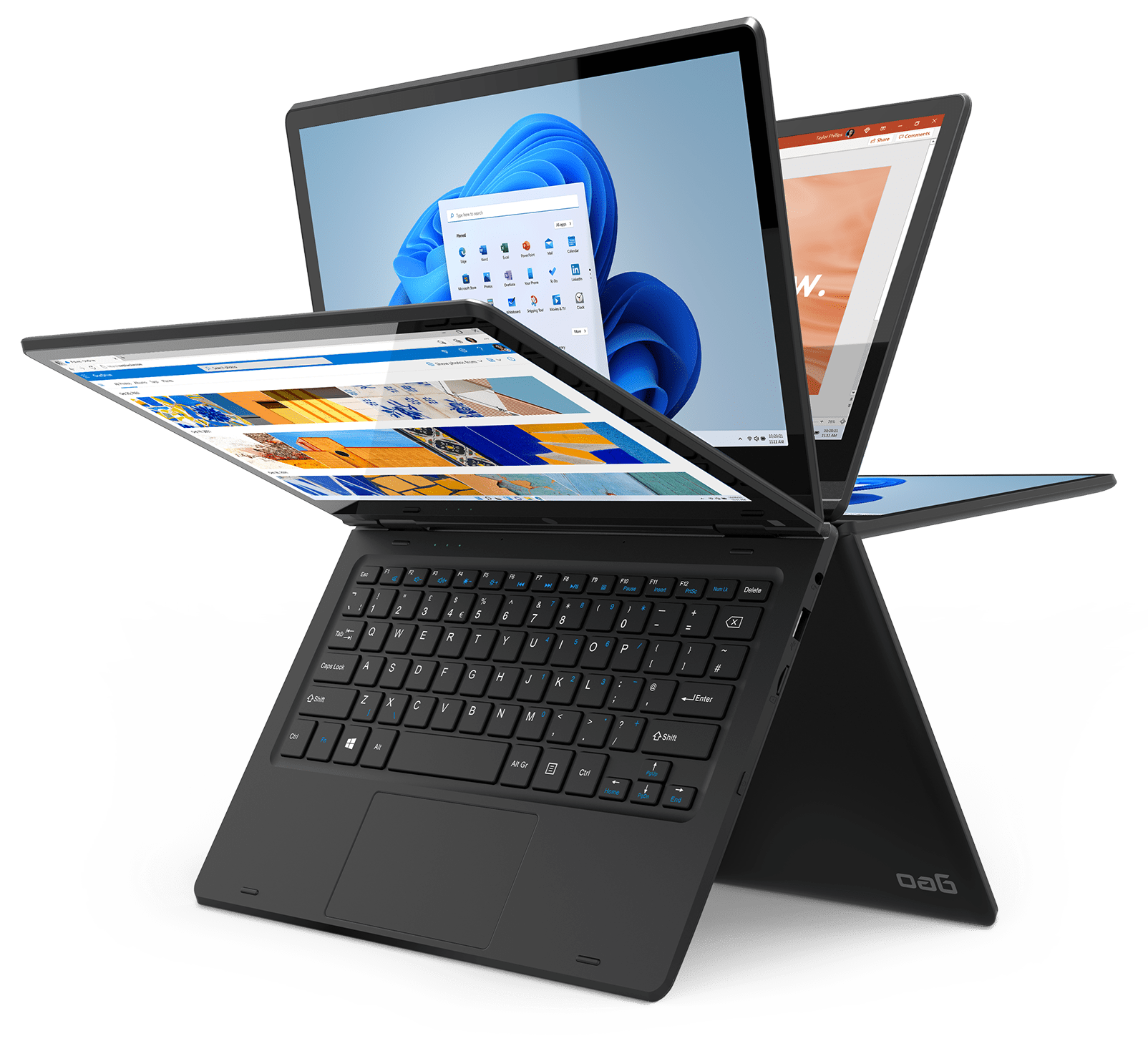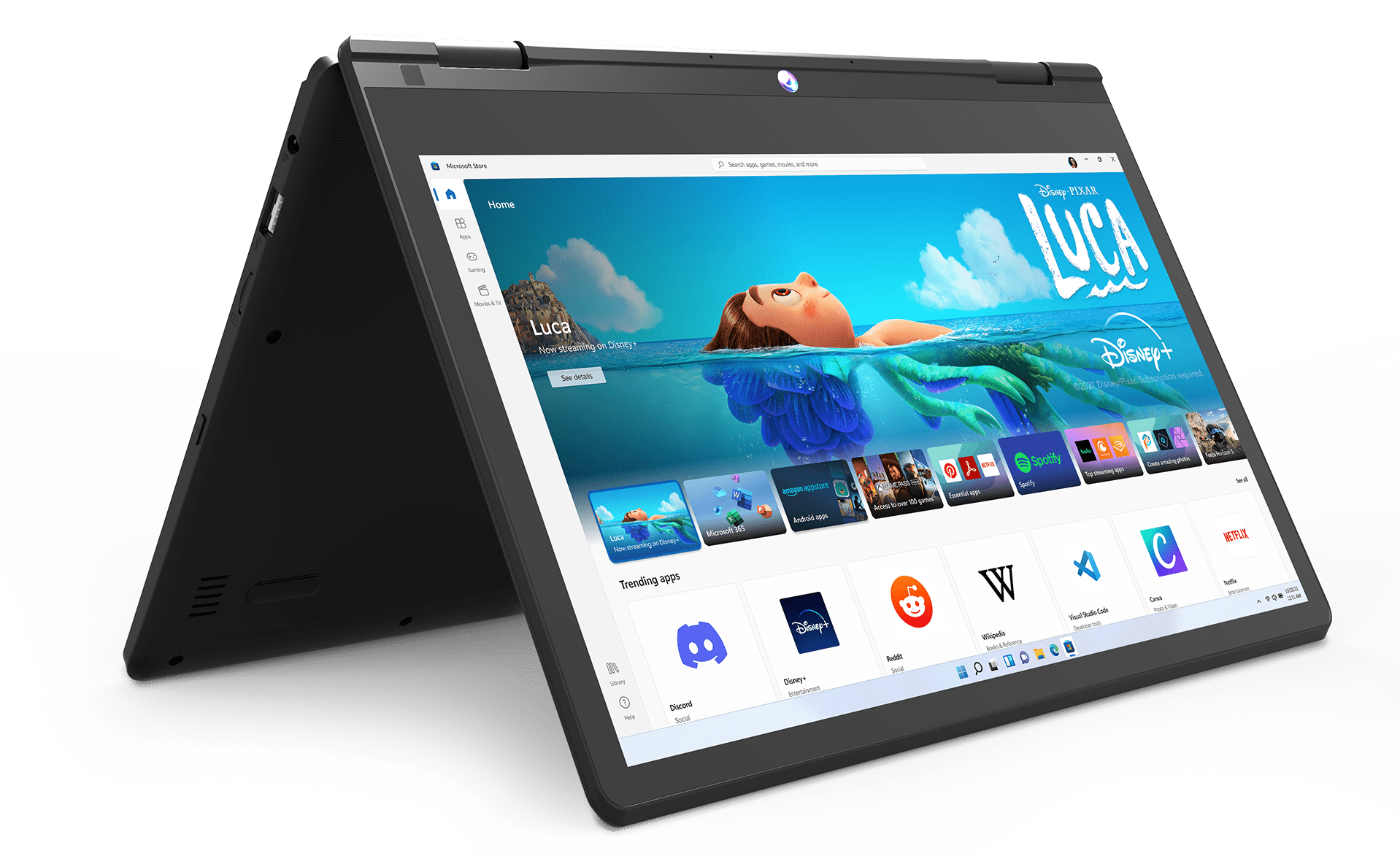 Designed for versatility, GeoFlex 110 is a convertible 2-in-1 laptop and tablet built to adapt to your needs. Compact and portable with a slim, lightweight build, GeoFlex 110 will be ready to go anytime, anywhere and will never look out of place.
Easily switch between laptop and tablet modes to make the most of the 11.6-inch HD touchscreen, perfect for watching movies, browsing, work or study wherever you might be.
Versatility
GeoFlex 110 offers everything you need for daily tasks, easily pivoting between work and relaxation. A 3.5mm audio port and Bluetooth support ensure you can keep your music or movies between you and your laptop by connecting your headphones or earbuds whether wired or wireless, and you can easily expand the built-in storage via MicroSD card.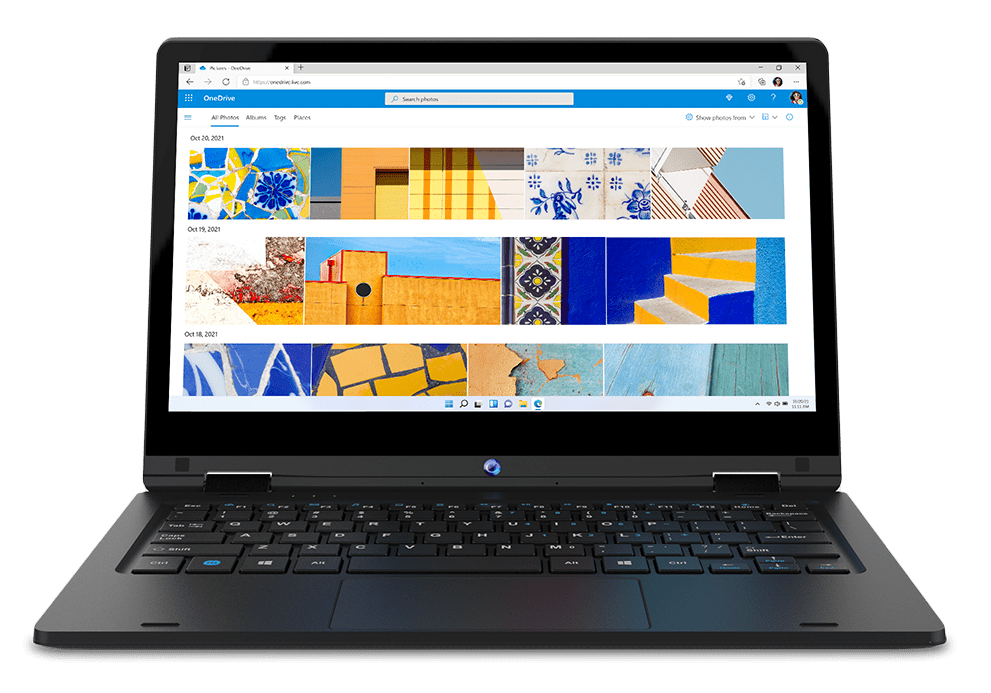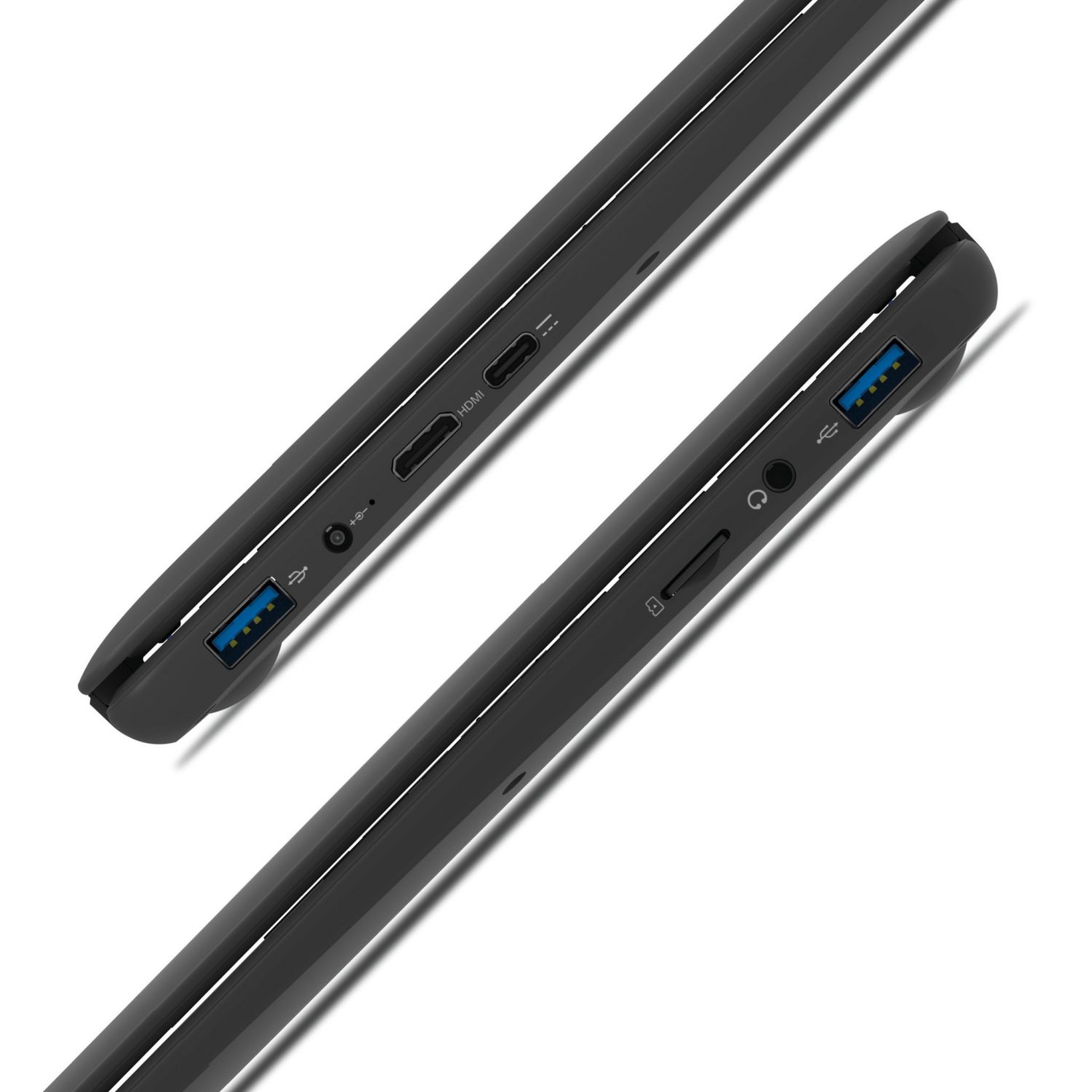 Connectivity
USB and HDMI-Mini connectivity allow connection of essential peripherals and an additional screen, while a MicroSD card slot offers extra storage options if required.
Windows & Microsoft 365 Personal
With the widest range of software and peripheral device compatibility available, Windows 10 is the only choice for productivity.
GeoFlex 110 comes with Windows 10 Home in S-Mode ready to go, with an upgrade to Windows 11 Home when available at no extra cost on compatible models.
A one-year subscription to Microsoft 365 Personal provides you with all the tools you need to get started immediately with premium Office apps including Word, Excel, PowerPoint, and Outlook plus 1 TB of OneDrive cloud storage to auto-save, keep in sync, and back up files and photos.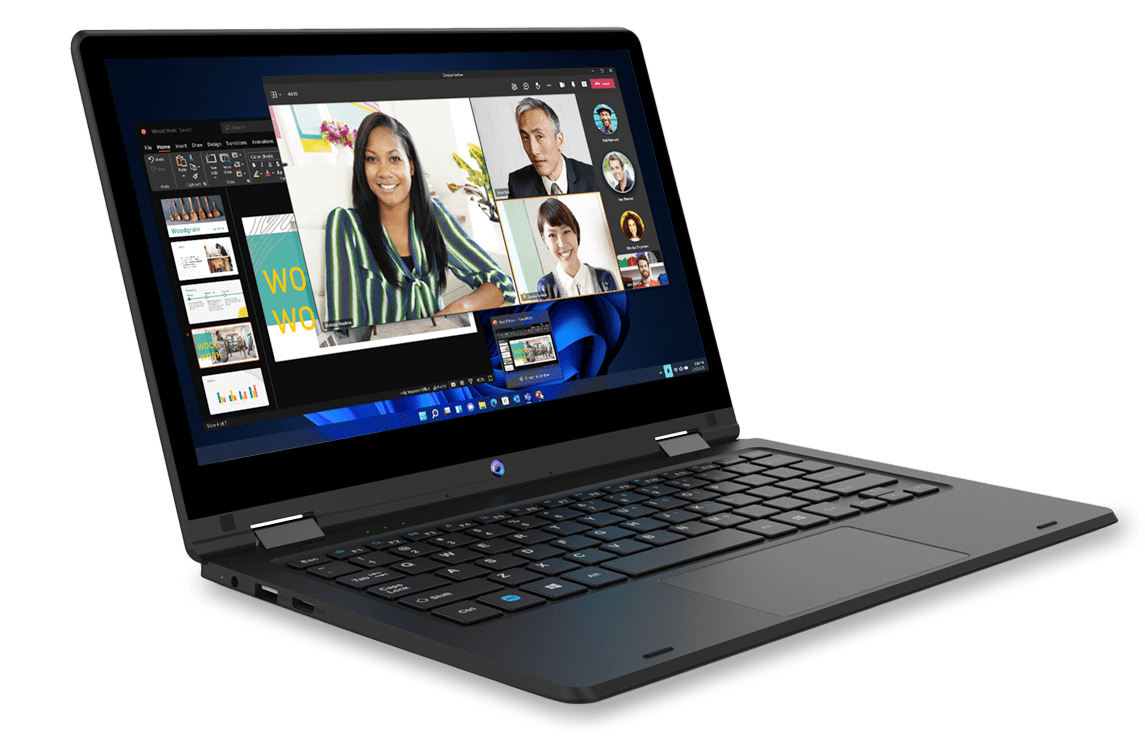 Communication
Reliable 802.11ac W-Fi technology along with a built-in front-facing webcam, microphone and integrated speakers ensure you have the essentials you need to communicate with friends, family or co-workers.
Technical Specification
| Item | Description |
| --- | --- |
| Operating System | Windows 11 Home (S mode) |
| Included Software | Microsoft 365 Personal 1-year (activation required within 180 days of Windows activation date) |
| CPU | Intel® Celeron® N4020 Processor (1.1GHz, Dual Core, 4MB Cache) |
| Memory | 4GB LPDDR4 |
| Internal Storage | 64GB eMMC |
| Expandable Storage | MicroSD Card Slot (128GB Max) |
| Interfaces | USB 3.0, HDMI-Mini, 3.5mm Headphone/Mic Port |
| Connectivity | Wi-Fi 802.11 b/g/n/ac, Bluetooth 4.2 |
| Camera | 0.9MP Front-Facing |
| Display | 11.6in HD TN (1366 x 768) Touchscreen |
| Graphics | Integrated Intel® UHD Graphics 600 |
| Battery | 4800mAh, 7.6v Lithium Polymer |
| Weight | 1219g |
Previous Model Technical Specifications

| Item | Description |
| --- | --- |
| Operating System | Windows 10 Home (S mode) |
| Included Software | Microsoft 365 Personal 1-year (activation required within 180 days of Windows activation date) |
| CPU | Intel® Celeron® N4020 Processor (1.1GHz, Dual Core, 4MB Cache) |
| Memory | 4GB LPDDR4 |
| Internal Storage | 64GB eMMC |
| Expandable Storage | MicroSD Card Slot (64GB Max) |
| Interfaces | USB 3.0, USB 2.0, HDMI-Mini, 3.5mm Headphone/Mic Port |
| Connectivity | Wi-Fi 802.11 b/g/n/ac, Bluetooth 4.0 |
| Camera | 2.0MP Front-Facing |
| Display | 11.6in HD TN (1366 x 768) Touchscreen |
| Graphics | Integrated Intel® UHD Graphics 600 |
| Battery | 4800mAh, 7.6v Lithium Polymer |
| Weight | 996g |
*The Windows 11 upgrade will be delivered to qualifying devices late 2021 into 2022. Timing will vary by device. Certain features require specific hardware (see aka.ms/windows11-spec)
| Item | Description |
| --- | --- |
| Operating System | Windows 10 Home (S mode) |
| Included Software | Microsoft 365 Personal 1-year (activation required within 180 days of Windows activation date) |
| CPU | Intel® Celeron® N3350 Processor (1.1GHz, Dual Core, 2MB L2 Cache) |
| Memory | 4GB LPDDR4 |
| Internal Storage | 64GB eMMC |
| Expandable Storage | M.2 SATA 2280 Expansion Bay, MicroSD Card Slot (64GB Max) |
| Interfaces | USB 3.0, USB 2.0, 3.5mm Headphone/Mic Port |
| Connectivity | Wi-Fi 802.11 b/g/n/ac, Bluetooth 4.0 |
| Camera | 0.3MP Front-Facing |
| Display | 11.6in HD TN (1366 x 768) Touchscreen |
| Graphics | Integrated Intel® HD Graphics 500 |
| Battery | 4800mAh, 7.6v Lithium Polymer |
| Weight | 996g |

| Item | Description |
| --- | --- |
| Operating System | Windows 10 Home (S mode) |
| Included Software | Microsoft 365 Personal 1-year (activation required within 180 days of Windows activation date) |
| CPU | Intel® Celeron® N4020 Processor (1.1GHz, Dual Core, 4MB Cache) |
| Memory | 4GB LPDDR4 |
| Internal Storage | 64GB eMMC |
| Expandable Storage | M.2 SATA 2280 Expansion Bay, MicroSD Card Slot (64GB Max) |
| Interfaces | USB 3.0, USB 2.0. HDMI-Mini, 3.5mm Headphone/Mic Port |
| Connectivity | Wi-Fi 802.11 b/g/n, Bluetooth 4.0 |
| Camera | 0.3MP Front-Facing |
| Display | 11.6in HD TN (1366 x 768) Touchscreen |
| Graphics | Integrated Intel® UHD Graphics 600 |
| Battery | 4800mAh, 7.6v Lithium Polymer |
| Weight | 1097g |
*The Windows 11 upgrade will be delivered to qualifying devices late 2021 into 2022. Timing will vary by device. Certain features require specific hardware (see aka.ms/windows11-spec)